---
Gemi
GEMI
(Gamay Corlan Gi)
*22.6.2010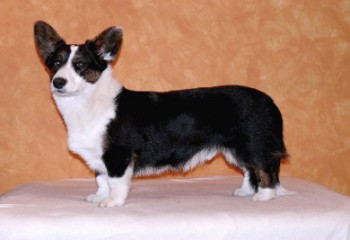 (Photo 7 monts)
Shows: 4x VP1, 2 CAJC, 2 BOB
Examines: ZVOP (herding ability test)
HWT (herding working test) 76/100 points j:J. Tancer
(Gemi passed this test as 1-year-old dog)
All teeth, scrissor bite
Height: he is still puppy
Weight: he is still puppy
PRA - RCD3 - negative

Gemík is young boy. His future is a big guestion but we can say certainly, he will be realy pleasant doggy. He has very friendly balanced nature, he is guite calm and his behavior is very very sweet and right sensitive, but no too much. Every visitor loves him. His big advantage for training is desire for teamwork. He is full of energy but not rash.
He likes dog shows, becouse there are friendly people and dogs who play with him and pet him a lot. He loves people and children too.

For advanced training is too early, he is a children, but he knows all basic comands and basic of herding. His herding ability started is his almost 4 mounths. The first birthday he celebrated by passing HWT (herding working test).

Gowerston
Jazz Singer
For Pemcader
Bethwyn
Music Man
Wynrik
Drum
Major
Johnwey
Show Stopper
Matfen
Funny Girl
Bethwyn
Bind Faith
Bethwyn
Black Baron

Bethwyn Bind Date


Casey May
Brookview
Thamesmere
Blackjack At
Gowerston

Joseter Doblewood


Gowerston
Christmas Carol

Cwmteifi
Lleucu Las


Trenwydd Bleu
Mirage
Gorhleck
Gwendolen




Futura
Corlan Gi



Yardicam
US Westwyn
Leo

Spectrum
Harlem Shuffle
Phi-Vestavia Nautilus
Davenitch
Blackfox Barketa

Yardican
Lledrith
Deavitte Oakleaf
Faydom Sparkling
Moonstone
Enotria
Corlan Gi
Blondie´s
Quickstep
to Heaven
Blondie´s
Noble Man
Beckrow Beam
Me Up To
Powdermill

Branwen
Lisiura
Smultronbackens
Douglas
Hopeful Havana
Birkebakken´s