---
Litter G
Litter G
Puppies were born 22th June 2010
1 bitch - tricolor (brindle pointed)
2 dogs - tricolors (brindle pointed)

Pedigree is on the end of this page
Sir:
Gowerston Jazz Singer For Pemcader "Jazz"

UK Champion
DK Champion
BOB Danish speciality show 2008
BOB, BIS, Top of the Corgi Show 2010

Jazz is exceptional in every way. He is not only nice, succesfull, sweet, energyfull but he has excelent exterier, super pedigree and he is absolutly unrelated with all Czech cardigans and most of all Europiean dogs.
Jazz is father of one of the best cardigan - bitches Bymill Picture This. This bith won all pastoral group in Cruft´s. No other cardigan can do it, yet!


More info here:

Dam: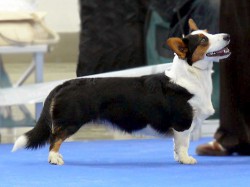 Ch. Futura Corlan Gi " Týna"

1 CAJC, 4 CAC, 3 CACIB, 2BOB
ZVOP
Týna is all time happy dog, she loves all people and children are the best friends for her. She is very friendly with other dog and our cats. She is absolutly obedient in every moment and she never let you be alone. She follows every your step and if you are standing somewhere, she right away lies down.
We didn´t go with Týna for many dog show, but she everytime get Excelent.


More info here.

Gwyneth
(Winie)



Lives
in Tábor

Gregor
(Greg)

Lives
in Brno






Gamay
(Gemi)





Stays in our kennel

Pedigree:

Gowerston
Jazz Singer
For Pemcader
Bethwyn
Music Man
Wynrik
Drum
Major
Johnwey
Show Stopper
Matfen
Funny Girl
Bethwyn
Bind Faith
Bethwyn
Black Baron

Bethwyn
Bind Date


Casey May
Brookview
Thamesmere
Blackjack At
Gowerston

Joseter
Doblewood


Gowerston
Christmas Carol

Cwmteifi
Lleucu Las


Trenwydd Bleu
Mirage
Gorhleck
Gwendolen




Futura
Corlan Gi



Yardigam
US Westwyn
Leo
Spectrum
Harlem Shuffle
Phi-Vestavia Nautilus
Davenitch
Blackfox Barketa

Yardican
Lledrith
Deavitte Oakleaf
Faydom Sparkling
Moonstone
Enotria
Corlan Gi
Blondie´s
Quickstep
to Heaven
Blondie´s
Noble Man
Beckrow Beam
Me Up To
Powdermill

Branwen
Lisiura
Smultronbackens
Douglas
Hopeful Havana
Birkebakken´s